Register Now for DEI Tuesday Reception at NCUA's DEI Summit
Register Now for DEI Tuesday Reception at NCUA's DEI Summit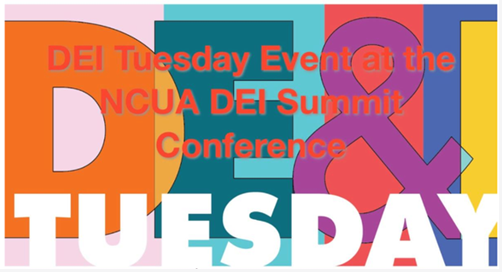 The African-American Credit Union Coalition (AACUC), the CU DEI Collective, CU Pride, the Hawaiian Pacific Islanders Credit Union Professionals (HAPICUP), Inclusiv, and the National Association of Latino Credit Unions and Professionals (NLCUP) have come together again to host the DEI Tuesday Reception on October 31, 2023 at the Hilton Washington DC Capitol Hill in advance of the National Credit Union Administration (NCUA) 2023 DEI Summit taking place November 1-2, 2023 in Washington, DC.
Launched three years ago at CUNA's Governmental Affairs Conference by AACUC, Inclusiv and NLCUP as a platform to support, provide visibility and promote the work of DEI-centric organizations, DEI Tuesday has been integrated into events by a growing number of credit union organizations.
"We're extremely excited that NCUA is supporting our DEI efforts, and I want to extend my gratitude to all of those who are making DEI Tuesday a staple at their conferences," said Barbara Mojica, NLCUP Executive Director.
Since then, other DEI-centric organizations such as CU Pride and HAPICUP have also joined DEI Tuesday, which is supported by the CU DEI Collective.
"The industry has taken great strides to ensure our professionals, members, and communities are seen and encouraged to be their authentic selves," said Zach Christensen, CU Pride Executive Director. "DEI Tuesday is a beacon to all that inclusion and belonging are now basic table stakes in this evolving world, and, in solidarity, we can bring financial wellbeing to all."
"HAPICUP is proud to be one of the newest organizations to join the CU space," said Jennifer Esperanza, HAPICUP co-founder. "We are a small but highly motivated group of Hawaiian, Asian American and Pacific Islanders who want to raise awareness of the issues that affect our communities. We also want to promote more of us to be part of the credit union movement."
The DEI Tuesday Reception will take place from 6:00 PM to 8:00 PM on October 31, 2023 at the Hilton Washington DC Capitol Hill. NCUA Chairman Todd Harper and NCUA Board Member Rodney Hood will deliver remarks. Additional speakers include:
Zachary Christensen, Executive Director, CU Pride
Pablo DeFilippi, EVP Inclusiv Network, Inclusiv
Barbara Mojica, Executive Director, NLCUP
Hazelmae Overturf, Director Community Impact, Kaua'i Federal Credit Union
Renée Sattiewhite, President/CEO, AACUC
Registration is available at DEI Tuesday or from the NCUA's DEI Summit web page under DEI Tuesday Event button. Space is limited.
"We see DEI Tuesday as an opportunity to recognize and celebrate our movement and nation's growing diversity," said Pablo DeFilippi, EVP Inclusiv Network at Inclusiv. "We're especially grateful to NCUA for their commitment to DEI and for their support of this effort."
The DEI Tuesday reception is open to all NCUA DEI Summit participants as well as to credit union professionals in the Washington, DC area. Last year, more than 100 people participated.
"Right now is the time to lean in," said Renée Sattiewhite, AACUC President/CEO. "Our work is not a fad or transitory in nature. We all must continue to advocate for the 8th Cooperative Principle. The future of the credit union movement depends upon our ability to serve a diverse membership base and to create a welcoming environment for all employees."