How to change the world: A story of community perseverance and credit union collaboration
How to change the world: A story of community perseverance and credit union collaboration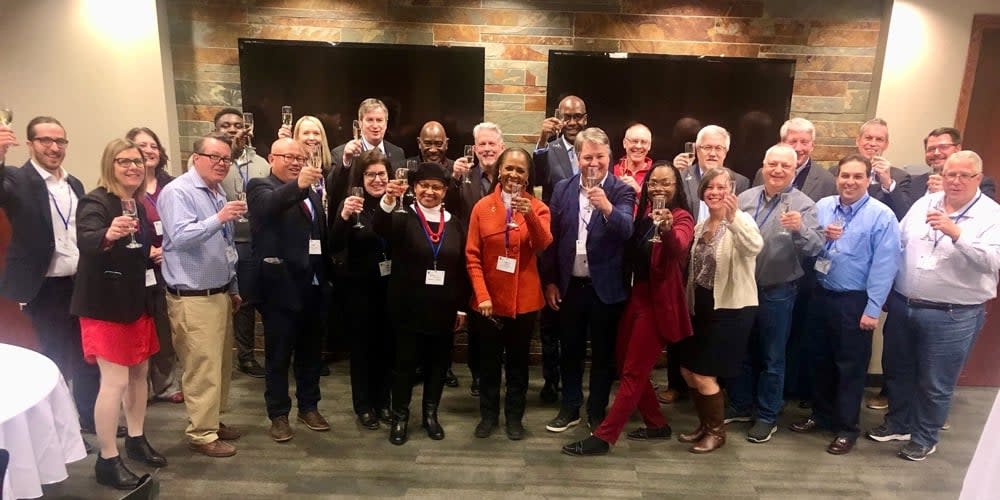 In the credit union industry, we maintain that our value to our members is a result of our status as cooperatives – we are our community's not-for-profit, people-helping-people financial alternative and it's because we abide by eight core cooperative principles. We are inherently different, we say, because we cooperate, credit unions collaborate, with one another, but what does it look like in practice? How do our members see and feel our difference?
Early in my credit union career, I had the fortune of attending a presentation at the University of Minnesota by Bryan Stevenson, a civil rights attorney and social justice leader, who was promoting his new book, "Just Mercy: A Story of Justice and Redemption." As the founder of the Equal Justice Initiative, Stevenson has spent his career fighting against the inequities of our criminal justice system, working to reform litigation and saving prisoners sentenced to death. I knew who he was prior to walking into the auditorium, but I wasn't prepared for how I was going to feel walking out.
His proposal was simple. According to Stevenson, there are four essential, actionable steps to take if you want to enact meaningful progress in your community: we must get proximate to the people and problems we're trying to solve, we have to change the narrative, we need to remain hopeful and sometimes we have to do uncomfortable things. The result gives us the answer to "how to change the world."
So perhaps the question we, as credit unions, need to ask ourselves is how might we leverage our power as local, community-run cooperatives to change the world? Consider the example of a Black-led, de novo credit union built by and for the Northside of Minneapolis – an initiative which has epitomized the strength of our cooperative model and our collaborative nature.
As a community-based nonprofit, Association for Black Economic Power (ABEP) has fought to reduce deeply engrained economic disparities prevalent on the Northside while promoting the development of services conducive to rebuilding generational wealth. To help achieve their mission, in 2017 ABEP set out to establish a financial cooperative, a credit union, to address these systemic barriers. And so berthed the initiative to build Arise Community Credit Union.
Like any project, the creation of Arise has had its share of ebbs and flows. After management transitions and an extended pause as a result of the pandemic, the initiative began to see a resurgence; the unrest due to the murder of George Floyd in May of 2020 only further highlighted the urgency of this need. By the end of that year, ABEP had a re-energized board along with a newly named executive director, Debra Hurston, insistent on bringing the credit union to fruition.
Early in 2021, after having made a connection with ABEP, Renée Sattiewhite, a personal mentor of mine and a passionate leader in the credit union movement, reached out regarding the re-launch of this credit union initiative. Not long after our conversation, the partnership between ABEP and the Minnesota Credit Union Network deepened, sparking the engagement with the African American Credit Union Coalition (AACUC) and our credit union community to support the launch of Arise. As not-for-profit financial cooperatives, what better way to adhere to our cooperative principles than to uplift the creation of a new credit union being built in a banking desert?
By summer, credit unions and system partners across the country began coming together to support the initiative. A core team of community members and credit union consultants steered the project. An advisory team comprised of dedicated credit union leaders and experts was created to assist with and guide the completion of the charter application. And, in November, through the Minnesota Credit Union Foundation, we launched a capital and deposit pledge campaign.
To date, the MnCUN effort has raised over $1 million in capital to go toward post-opening operating expenses and gaining over $4 million in pledged deposits. Plus, this support has enabled ABEP and Arise to secure ongoing commitments from Minnesota credit unions, national foundations, and organizations such as AACUC, Arriba Advisors and CUCollaborate.
The boost from our industry was critical for the initiative. This past year, Arise finalized its proposed business plan and financials, appointed its board and leadership, conducted the initial organization meeting, and submitted its completed charter application to state and federal regulators at the end of October 2022.
Throughout all of this, I couldn't help but keep Stevenson's message close to heart. ABEP's location and deep connection to the Northside has rooted Arise in the community, keeping us proximate. Focusing on the pertinent products and relevant services needed in this banking desert will allow Arise to change the narrative. Holding spaces for transparent conversation while looking beyond traditional banking practices has kept our teams appropriately uncomfortable. Witnessing true cooperation, countless hours of time and energy contributed, milestones completed, and now knowing the result will culminate in a new credit union is certainly conducive to remaining hopeful.
Arise Community Credit Union will be the first de novo credit union chartered in Minnesota in ten years and will be the only Black-led credit union in our state. Through Arise, the community will have the opportunity to affect positive change, empower growth and build economic stability for the unbanked and underbanked residents of the community while directly addressing the core cause of systemic poverty on a variety of levels.
So, do credit unions have a fighting chance at changing the world?
No matter what your cause, your mission, or your goals are this year, remember:
"You've got to be brave, brave, brave… we've got to be more courageous." – Bryan Stevenson
Full article is available here.
Additional Info
Source : Benjamin A. Hering, Director of Engagement, Minnesota Credit Union Network | CUInsight.com