Educational Systems Federal Credit Union Announces Girado Smith as President/CEO
Educational Systems Federal Credit Union Announces Girado Smith as President/CEO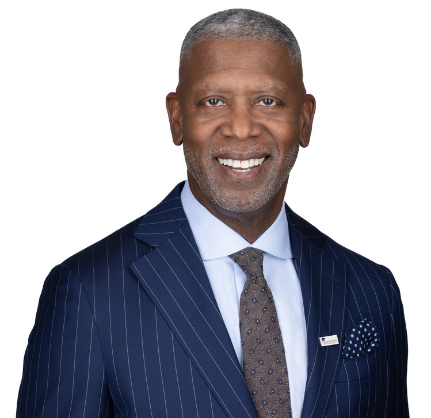 January 3, 2023 (Greenbelt, MD) – Educational Systems Federal Credit Union is proud to announce Girado Smith as the President/CEO. Mr. Smith succeeds Chris Conway, who served as President/CEO of the Credit Union for 16 years before retiring.
Mr. Smith joined Educational Systems FCU in 1998 as the Accounting Manager and served as the Executive Vice President and Chief Financial Officer since 2004. He led the Credit Union's strategic direction for strong financial performance, which resulted in surpassing the milestone of $1 billion in assets. During his tenure, Girado has also helped shape a culture of teamwork and inclusion by providing employees with professional development opportunities and collaborating with organizations that support such initiatives.
"It's an honor to be the Credit Union's President/CEO," said Mr. Smith. "I look forward to continuing a legacy of excellence and serving the education community by offering competitive rates, customized solutions and an exceptional member experience."
Mr. Smith is passionate about giving back to the education community. He helped the Credit Union form the Support Education Foundation, Inc. in 2017 as a way for employees and members to contribute to charitable giving programs that benefit students and school employees. Mr. Smith served as the first Chair of the Board of Directors of the Support Education Foundation.
Mr. Smith holds a Certified Public Accountant (CPA) designation. He currently serves on the board of directors of the Metropolitan Area Credit Union Management Association (MACUMA) and the MD|DC Credit Union Association Suburban Maryland Chapter. In addition, he is a member of several professional organizations including the African American Credit Union Coalition, National Association of Federal Credit Unions and the CUNA CFO Council. He also supports the PowHERful Foundation, an organization empowering young women to pursue higher education and reach their full potential.
Board Chair, Alonia Sharps, remarked, "Mr. Smith's extensive leadership experience and focus on strategic growth will position our Credit Union to be the premier provider of financial solutions for the education community."
Educational Systems FCU has proudly served the education community since 1955. With $1.2 billion in assets and 13 branches, the Credit Union serves 85,000 members in eight school systems and three community colleges throughout Anne Arundel, Calvert, Caroline, Charles, Montgomery, Prince George's, St. Mary's and Talbot counties. For more information, visit esfcu.org.