DC Federal Credit Union Selects Sybil Bogans - President/Chief Executive Officer (CEO)
DC Federal Credit Union Selects Sybil Bogans - President/Chief Executive Officer (CEO)
The Board of Directors of DC Federal Credit Union ("DC Credit Union") is pleased to announce the selection of Sybil Bogans as its new President and Chief Executive Officer (CEO).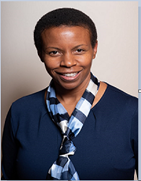 Bogans has over 25 years of experience in business administration and has served in the credit union movement since 2015. She joined DC Credit Union in Washington, DC as Vice President/Chief Financial Officer (CFO) in 2019 and was formerly with Arlington Community Federal Credit Union in Arlington, VA. She is quite passionate about DC Credit Union's mission of helping people enhance their financial wellness holistically and seeks to lead collaboratively with others who support the credit union mantra of "people helping people".
As a Community Development Financial Institution (CDFI), DC Credit Union is empowered to provide financial products and services as well as implement and maintain financial improvement programs for the benefit of its members and stakeholders. The credit union has a rich heritage of serving the employees and families of the District of Columbia Government since 1954. "The Board performed an extensive nationwide search and is pleased to appoint Ms. Bogans as our next President/Chief Executive Officer. We believe that her technical expertise, commitment to innovatively serving our members and overall visionary leadership will be an asset to the credit union and propel our next level of growth", said Charlotte Ducksworth, Board Chairwoman of DC Credit Union. Ms. Ducksworth also said, "Since its inception, D.C. Credit Union has been and still is an important financial institution focused on the needs of D.C. government employees and their families. DC Credit Union has also created a legacy of services that ensure economic access to those who are traditionally 'under-banked/under-served' as well as supporting our region's diverse immigrant population. We look forward to Ms. Bogans continuing to progress this legacy with the support of our amazing team."
Bogans will be working with this team, affiliated partners, and regulators to lead the credit union through operational expansion geographically and technologically over the next few years. Bogans' variety of experiences in organizational management, constituent services, finance and accounting, professional development, not-for-profit and profit-based businesses, and practice of credit union philosophy uniquely position her to help DC Credit Union thrive as it moves forward through the next phases of its history. "Being the President/CEO of DC Credit Union is an amazing opportunity to lead the charge of continuing to make significant positive impacts in the lives of our members. Financial stability and economic empowerment are critical components of both individual and community advancement; and this credit union works hand-in-hand with the District of Columbia's Government to have such an impact. Together with our team of incredibly talented and gifted staff, we will achieve the strategic plans set forth in conjunction with our governing authorities and thrive!" says the new President/CEO, Sybil Bogans, when asked about her vision and reason for taking this position.
Bogans earned a Bachelor of Science (BS) degree in accounting and a Master of Business Administration (MBA) degree in management from Florida Agricultural & Mechanical University (FAMU), Tallahassee, FL. Bogans attended public schools in Prince George's County, MD and has lived in the Washington, DC metropolitan area most of her life, though originally a native of Durham, NC. She is married with two children and states that her family and God inspire her daily to be an effective servant-leader at home, work, and in the community at large.