Special CTC Friday Conversation: Meet the Credit Union Women's Leadership Alliance (CUWLA)
Special CTC Friday Conversation: Meet the Credit Union Women's Leadership Alliance (CUWLA)
Friday, December 8, 2023 (1:00 PM - 2:00 PM) (EST)
Description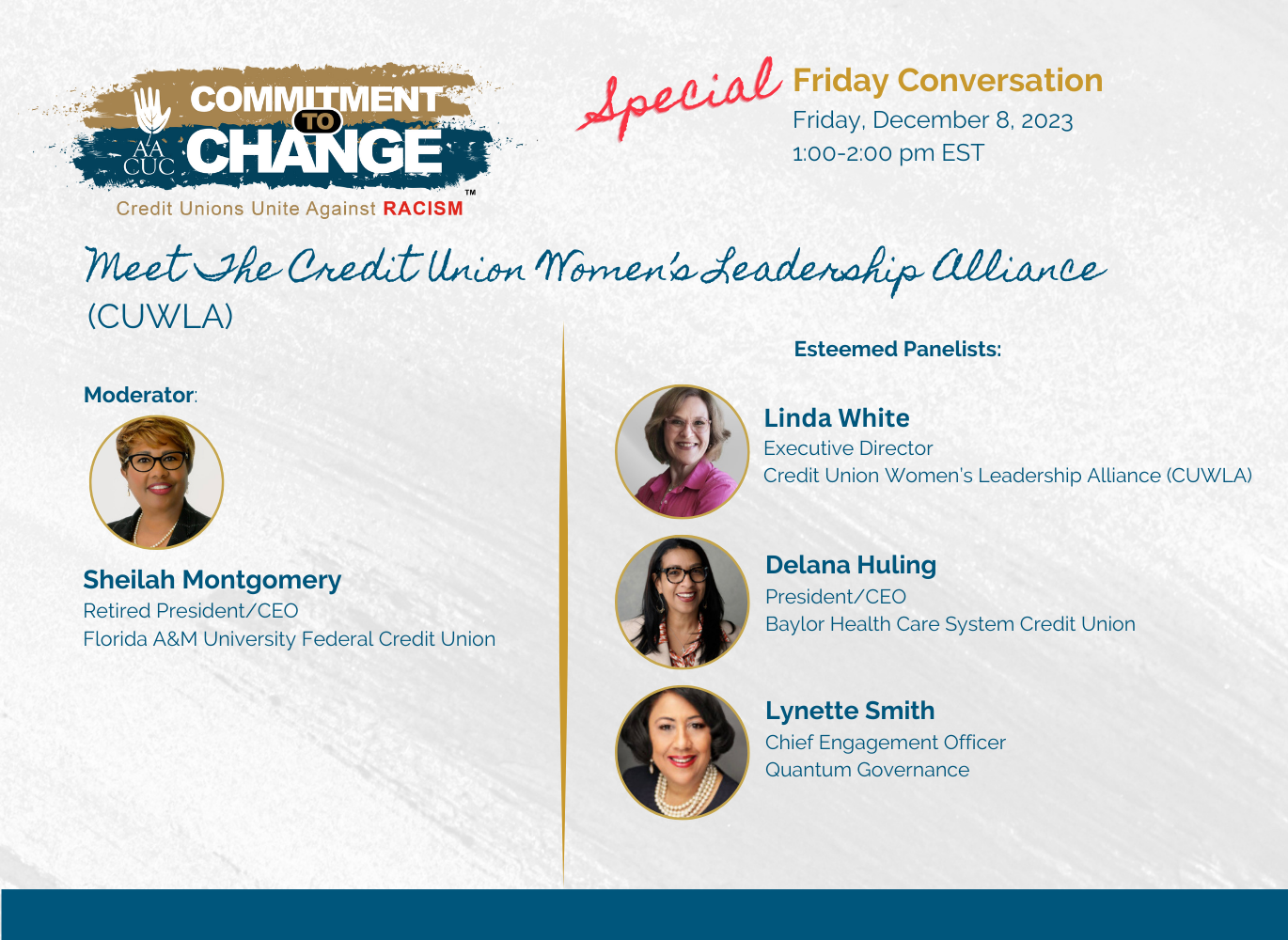 Join us for a Special CTC Friday Conversation: "Meet the Credit Union Women's Leadership Alliance (CUWLA)."
Come meet some of the founders and members of CUWLA and learn about the benefits of becoming a member. Here's a snapshot introduction.
WHO IS CUWLA?
Leaders of the credit union movement who are passionate about sharing ideas, building a diverse, inclusive network, and supporting the communities we serve. Founded in 2020, membership is now 215 strong and growing.
Why CUWLA exists?
Small organizations are crucial to the future of the credit union movement. Through bold, open, and engaged communication and innovative ideas, we provide a safe space for women CEOs of credit unions with asset sizes of $300 million or less.
Our esteemed panelists are:
Linda White, Executive Director, Credit Union Women's Leadership Alliance (CUWLA)
Delana Huling, President/CEO, Baylor Health Care System Credit Union
Lynette Smith, Chief Engagement Officer, Quantum Governance
Sheilah Montgomery, Retired President/CEO of Florida A&M University Federal Credit Union, will moderate the conversation.
Zoom

Friday, December 8, 2023 (1:00 PM - 2:00 PM) (EST)
Categories
CTC Friday Conversation