CTC Conversation: Life in the C-Suite for Women
CTC Conversation: Life in the C-Suite for Women
Friday, November 17, 2023 (1:00 PM - 2:00 PM) (EST)
Description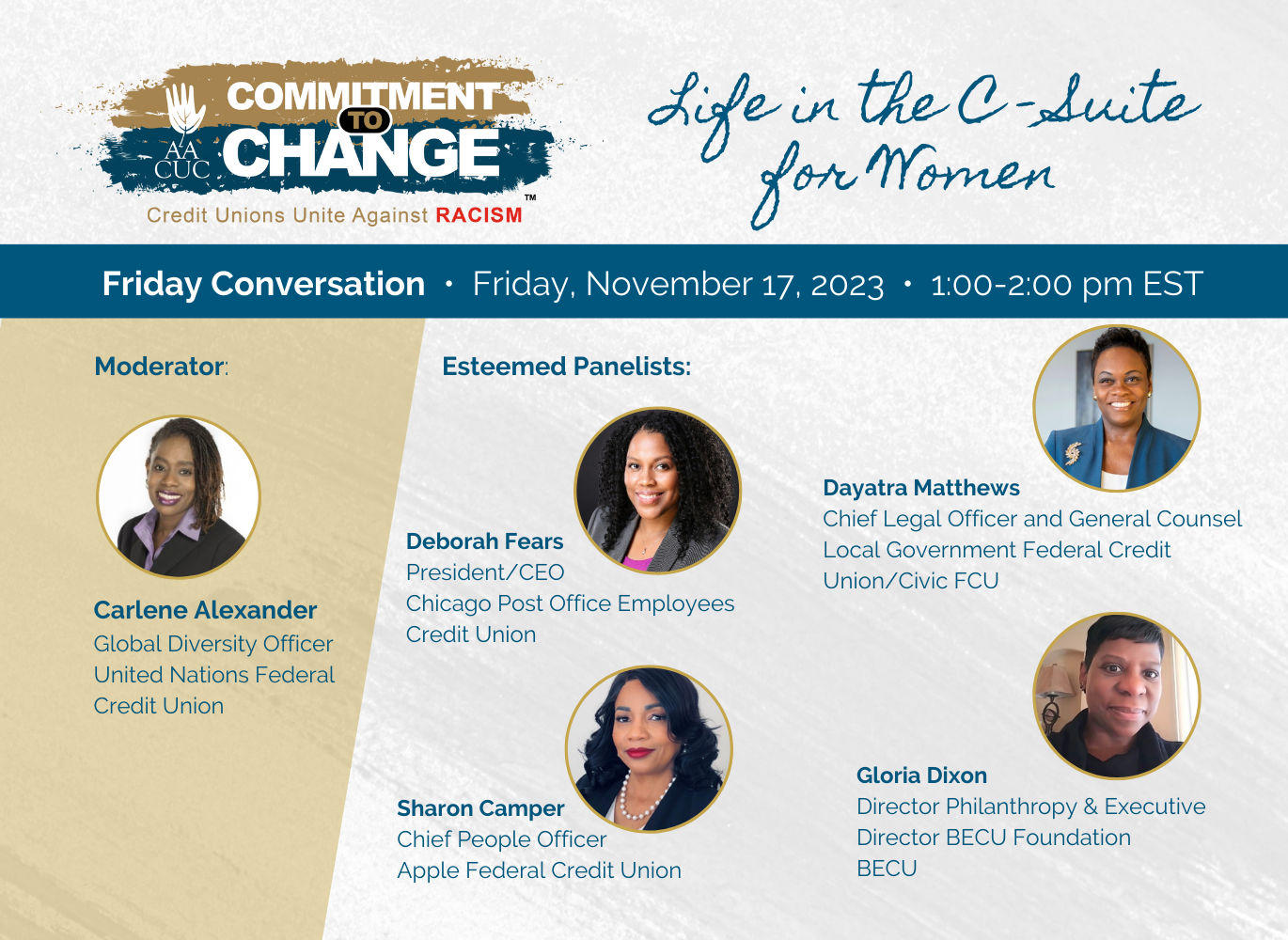 Join us for our November CTC Friday Conversation: "Life in the C-Suite for Women."
The percentage of women in leadership in the credit union movement is extremely low, even though research proves that advancing women into leadership positions not only bridges the gap in gender equity but also improves overall company success. Join us for an eye-opening CTC conversation as extraordinary women leaders share their personal journeys, the obstacles they've faced, and the strategies they've employed to champion DEI within the credit union system. Together, we'll uncover the untapped potential of women leaders and pave the way for a more inclusive and prosperous future in the world of credit unions.
Our esteemed panelists are:
Deborah Fears, President/CEO, Chicago Post Office Employees Credit Union
Dayatra Matthews, Chief Legal Officer and General Counsel, Local Government Federal Credit Union/Civic Federal Credit Union
Gloria Dixon, Director Philanthropy & Executive Director BECU Foundation, BECU
Sharon Camper, Chief People Officer, Apple Federal Credit Union & Board Member, AACUC
Carlene Alexander, Global Diversity Officer for United Nations Federal Credit Union, will moderate the conversation.
Zoom
After registering you will receive an email confirmation.
Friday, November 17, 2023 (1:00 PM - 2:00 PM) (EST)
Categories
CTC Friday Conversation